Of all the places in the world, I never thought I would be here...
Finish the story to enter this year's Summer Stars short story competition!
This year, as well as enjoying the all the amazing worlds you visit when reading books, Summer Stars is celebrating your imagination by running a short story competition. The competition is open to 6-18 year olds living in the Republic of Ireland - of course 6 year olds won't be competing against teenagers! There are three age categories: age 6-9, age 10-14, age 15-18.  
To enter, write a story using the following opening line:
Of all the places in the world, I never thought I would be here.
There will be 15 finalists in each category and one national winner from each category.
Prizes
Each category winner will receive a Tablet.
Each finalist in all categories will receive a €50 voucher.
That's a lot of great prizes and a lot of chances to win so let your imagination fly and start writing today!
Terms & Conditions
This competition is open to children living in the Republic of Ireland.

There are three categories: Age 6-9, Age 10-14, Age 15-18.

Stories must use the following opening line:
Of all the places in the world, I never thought I would be here...

Stories must be no longer than 500 words.

The competition is open for entries from 14th June to 31st August.

Entrants can submit as many stories as they wish.

All entries to be submitted in digital copy (e.g. Word, PDF) to summerstarsstory@lgma.ie by 5pm on 31st August. Hard copies will not be eligible.
In the email, entrants must include:

NAME
AGE
CONTACT PERSON
CONTACT NUMBER
NAME OF LOCAL LIBRARY SERVICE.

This information will only be available to the Libraries Ireland, LGMA team. This information and the competition entry itself will only be kept for the duration of the competition.

Please use 'Summer Stars Story' as the subject line of the email.

Entries must the original and unpublished work of the entrant.

The entrant's name must not appear anywhere in the text of the story as judging will be anonymous.

There will be no correspondence with the judging panel and no feedback provided to individual entrants.

There will be two rounds of judging for each category. In Round One, stories will be shortlisted and 15 will be selected to go through to the national judging final. In Round Two, a national winner will be selected from each category.

The decision of the judges is final.

The winning and finalist entries from each category will be uploaded to Libraries Ireland and the winner's local public library website.
Short Story Competition 2020
Congratulations to the overall winners of the 2020 short story competition An Unexpected Adventure:
Category 1 (6-9 years): Willow Dowds, Co Meath

Category 2 (10-14 years): Tiago Brennan, Co Kildare

Category 3 (15-18 years): Nicole McFadden, Co Kildare
Read their winning stories below!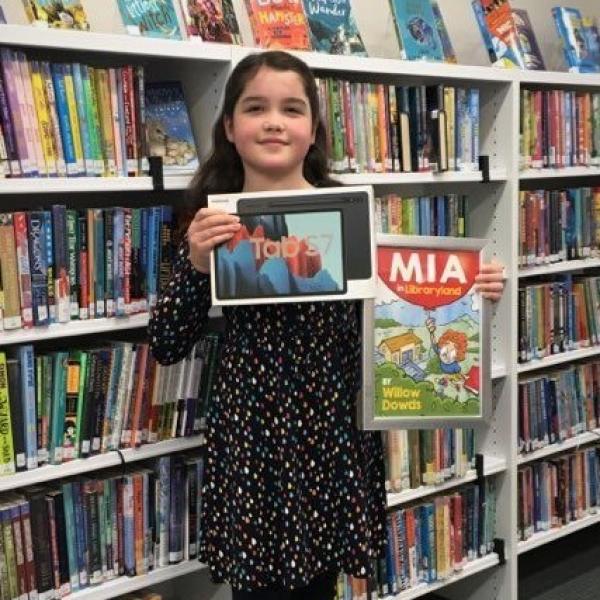 Category 1 Winning Story, by Willow Dowds
Mia was so bored. For the past few months she had not been able to see her friends or go anywhere fun because of lockdown. Mia decided to go to the library once it opened up. She went in and picked out a book. She scanned her library card and left.
As she stepped outside she saw that the balloon lady was selling balloons. She chose a big red balloon and then went down to the nearby park to read her library book. Mia realized that her balloon was tugging. It was getting stronger. In fact it was so strong it was lifting her up into the air. Mia looked down. She saw her feet drifting far away from the ground.
She was drifting up further into the sky. She looked in the distance and saw the Earth below her.
Mia was above a planet when the balloon popped. She crash landed. The planet was filled will all the stories you could ever imagine like sky scrapers. When the people walking around spoke sentences appeared in a speech bubble above them.
One book person noticed Mia and walked towards her. He asked her, "How did you get here?"
"I came on a large red balloon", Mia replied, "from Earth."
"Now that you are here would you like to have a tour of Libraryland?"
"Sure," said Mia, jumping leaped with excitement.
"My name is Ted. Every story ever written comes to life here in Libraryland. If you jump into a book you enter into the world of that book.
Ted showed Mia around the land. First they walked down Fairytale street. The street was lined with storybooks. She could see the pictures moving on the pages. They turned right at the end of the street and walked down Hobby Lane. Ted pointed out Science Fiction Corner and Biography Square.
The next street was the Bestsellers Road. Mia could see on either side of the street books lined up with their book covers like a front door. She recognised Artemis Fowl, the Harry Potter series and Diary of a Wimpy kid.
Mia asked Ted, "Where are you from?".
"I am from the book you have in your bag," Ted said, "that is what brought you here."
Mia said, "My mum will be wondering why I am not at home. How do I get back?"
"You open the book," Ted explained.
"But will I ever be able to come back?" Mia asked.
"Yes anytime you want to come to Libraryland just open a book and you are transported to our planet. You can visit anytime you read a book."
Mia smiled with pleasure once she realised the unexpected adventures that lay ahead. She took the book out of her bag and opened it. Suddenly she found herself back in the park with her balloon. On her way back home she walked past the balloon lady. Mia could have sworn she saw the lady wink at her. Or was it all her imagination?
Category 2 Winning Story, by Tiago Brennan
Iron Man
An Unexpected Adventure
My name is Iron, and I live in the kitchen together with my friends: Fridge, who is very cool, and his cousin Freezer; Cooker, who in discussions wants to heat things up, and so does his little brother Microwave; The two sisters Dishwasher and Washing Machine, who always keep things clean.
I have a dream: I want to become a superhero! I can spread mist and flatten my enemy. I can also attack by squirting boiling water.
I asked Fridge to help me, and he says the first thing to do is to escape the kitchen. So, I went to Cooker for him to cook up a plan:
"When the Mother picks you up, you squirt her with boiling water and escape."
It has been 10 days since I last ironed the Family's clothes, and we haven't heard them going around the house either! Microwave says that they are dead. So, I decided to take the opportunity to escape, but as I reached the front door two men walked in:
"To do this renovation right, we need to put them all away", they said.
I ran back and told everyone what I heard.
"Send them away' that's exactly what they said!" I recalled.
Fridge told us to stay cool, but everyone started making their way to hide in the shed.
"Everyone FREEZE!" said Freezer.
"How can you say that? Things are heating up in here." said Cooker.
Do you want to get dumped in the dirty skip? Is that what you want to happen to us?!?", said Washing Machine.
"…or die?!?" added Microwave with a dramatic voice.
A discussion broke out and the next thing we know the builders covered us with dustsheets. It all turned dark and cold. Everybody was scared, so I said in a soothing voice:
"Don't worry, I am also afraid which is not good for a superhero but …"
I took a deep breath which warmed up the place.
"No matter what happens I will always have good memories of you guys. I am sorry I was going to leave you because now my dream is for us to stay together." And then there was silence.
We all woke up as if we had been plugged in. We were surrounded by a shiny new worktop and bright coloured walls. I heard the faint voice of some of my friends:
"Iron, look! We have new fronts!", said Fridge proudly.
It seems that they become built-in appliances. Later I found out that the Family too got new clothes for me to iron. They had gone on holidays to get away from the dust and asked the builders to make sure we wouldn't be in the middle of the mess either.
We also got a new friend who seems to be very energetic.
"Hi guys! I'm Blender. Nice to meet you! The kitchen looks great…" whizzed Blender.
"FREEZE!" shouted Freezer.
"Sorry," said Blender "I think I was on turbo mode."
Category 3 Winning Story, by Nicole McFadden
Mrs. O'Hara grabs my arm as I step into her classroom. She pulls me out into the hall. My friends wiggle their eyebrows at me as they file into the room, guessing that I must be in trouble.
"Go to the guidance counsellor's office, Ashley. You have a meeting."
Her tone is sincere but her eyes are clouded with pity. It's downright embarrassing.
I sigh. I hated these little unexpected adventures to the counsellor's office. There's a reason that I try to skip every session. I drag my feet downstairs, already dreading the next hour.
—————————————————————————————————————
"Do you ever wonder what would've happened if Eve never ate that apple?"
The guidance counsellor stops rifling through the papers for a moment. She glances up at me, scrutinising my face.
"No. I don't."
I smile slightly. I've been playing a game for the last few sessions, throwing out questions to catch her off guard.
I feel as if I have a fishing line in my mouth and I reel it out every time I speak. She clicks her teeth, trying to resist the bait.
She bites.
"Do you?"
I shrug. "Well, God created all of these beautiful things and gave them to us. And what did we do? Wreck everything, of course."
She pulls out a thick, green file with "Ashley" written on it. The letters are big and bold, as if reflecting the person that they described. I continued to speak.
"And what if man never fell? We'd be swimming in the oceans and dining in fruit trees forever. No pollution, no abuse, no war."
She opens the file and scans the pages. 'Addiction' and 'foster home' and 'mother' must be sprinkled in there dozens of times. I wonder if the newest addition of 'relapse' has been added yet.
"We'd all be beautiful, little fools. I reckon we'd be happy, too. Ignorance is bliss, after all."
She sets the file down on the table, and glances up at the clock, my greatest enemy.
"I really don't think that anything was missing in Eve's life anyway. She had protection, love, joy… She was happy. Maybe it wasn't her fault, but the snake's. Maybe the snake is the one to blame?"
The guidance counsellor interrupts before I can speak again. I think that she's realised that my goal is to waste half of our session.
"Ashley, we must talk about your mother sooner or later. The school needs to know what's going on in your life. We can help."
I almost laugh. This woman's only credentials are a week-long training course during the summer. What help can she give?
Her words remind me of the point to my question. I lean in and widen my eyes, radiating vulnerability. She must be eating this up.
"About my mother… do you know what her middle name is?"
Her eyes flit to the file, but don't find an answer. She shakes her head.
"Eve."