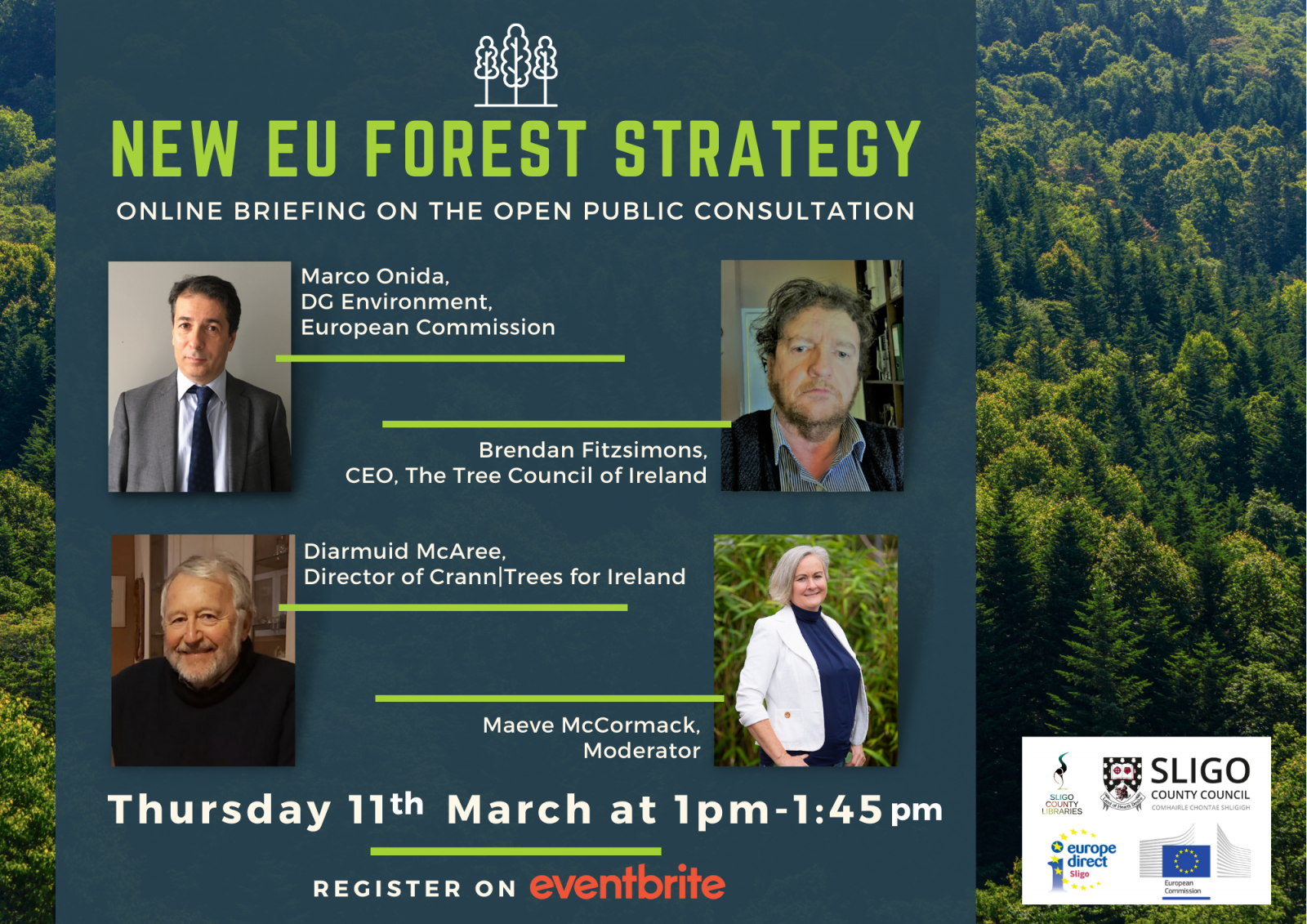 Free online webinar on the public consultation for the new EU Forest Strategy March 11th at 1pm register at eventbrite: https://bit.ly/3kIclI0
To create a new EU Forest Strategy the EU Commission has asked governments, forestry organizations and others for their submissions. Now it is asking the public to make theirs.
The public consultation will continue until the 19th April 2021. The EU has laid out a broad plan as to what it thinks the strategy needs to contain to plan for the forests of the future:
 The strategy will foster:
Afforestation and tree planting by setting out a roadmap for planting at least three billion additional trees in the EU by 2030, as announced in the Biodiversity Strategy for 2030, in full respect of ecological principles, contributing to climate neutrality, the circular economy and biodiversity.

Adaptation of forests to climate change and strengthening their resilience to face future challenges, including through enhanced conservation and use of the genetic diversity of trees.

New training, skills and jobs that reflect the multiple functions of forests.

Rural development, including local enterprises and value chains, tapping on forests' multiple functions.

Innovative forest-based services and products with low environmental impact, replacing carbon-intensive counterparts.

A strong research and innovation agenda to improve our knowledge of forests and to optimise their composition, structure, management and use, including for the bio-economy.
Ireland has had a poor forestry record entering the 20th century with less than 1% of its land with tree cover. Today we have 11% tree cover against an EU average of 43%. We have not met our own forestry targets in any of the years of the current Irish Government plan. EDIC Sligo is to hold a free online briefing on Thursday 11th March at 1pm on how you can make a submission on the new EU Forestry Strategy.
You can register for a ticket on eventbrite at https://bit.ly/3kIclI0