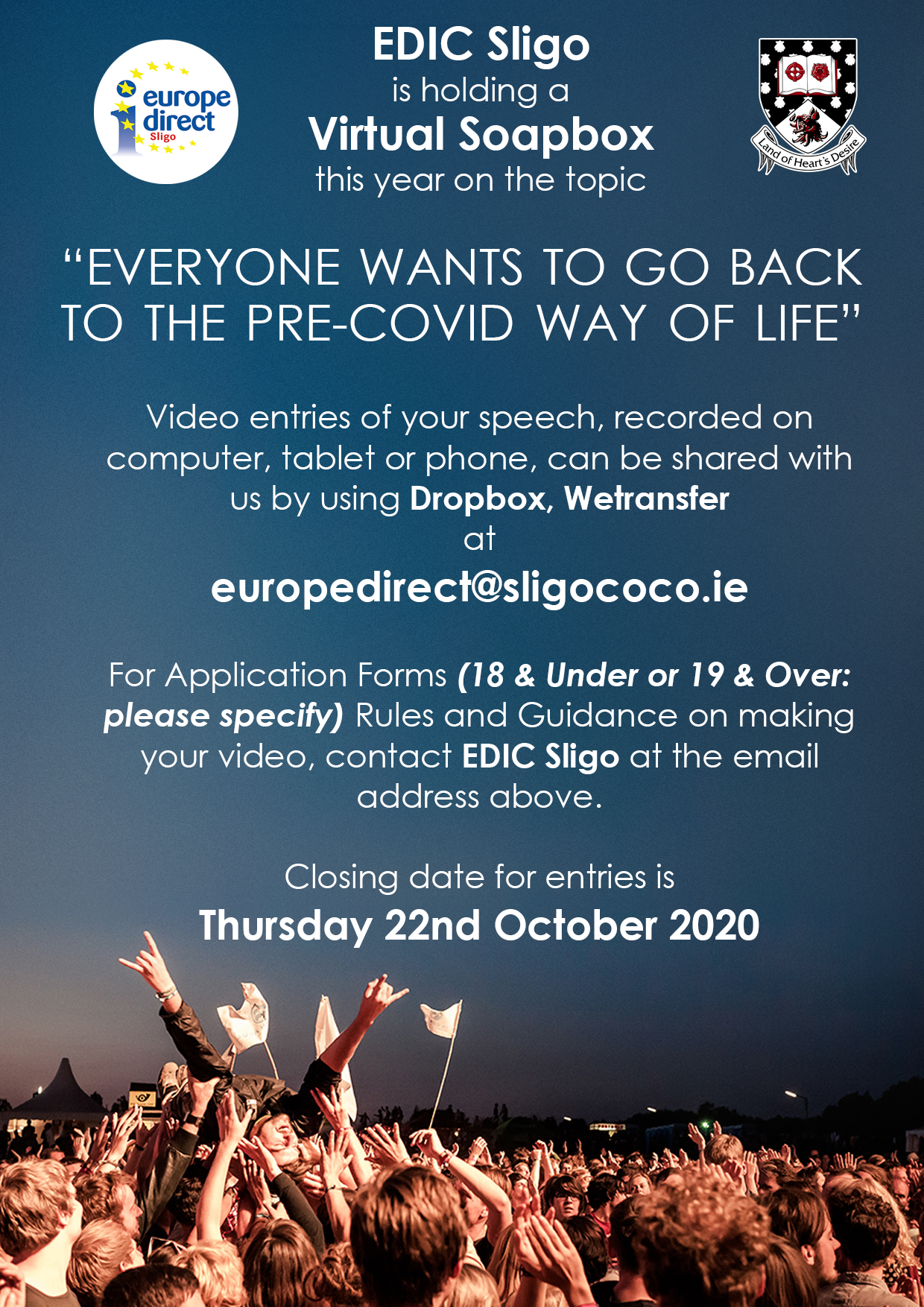 EDIC Sligo: Regional Soapbox Final 2020 "Everyone wants to go back to the pre-COVID way of life"
This event brings together two public speaking competitions for 18 years & Under and 19 years & Over on the topic: "Everyone wants to go back to the pre-Covid way of life". For the first time, due to COVID restrictions, the competition will be recorded for the EDIC Sligo YouTube Channel (available here https://www.youtube.com/channel/UCpqxKFAF6lShw1SD1emrMUA ). Links to the recording will be posted in the EDIC Sligo Tweets and Facebook Posts. Entries have been made by the speakers recording their speech on their computer, tablet or phone.
The judges will view the recordings and choose winners for both competitions and we are grateful for their time.  Winners will be awarded an IPAD mini in this regional final .
Seven other Europe Direct Information Centres in public libraries around the country will also be holding similar Soapbox events on this topical subject, giving the public the chance to have their say. These other regional finals are being held in Waterford, Letterkenny, Nenagh, Blanchardstown, Clones, Portlaoise and Ballinasloe.
Sixteen finalists will go through to compete in the Grand Final for substantial overall prizes which last year included a trip to Brussels and visit to the European Parliament and of course, the title of National Europe Direct Soapbox Winner 2020. COVID restrictions may mean that the overall prizes may have to be replaced or amended but this will be announced before the National Final which is scheduled to be held in December.
Each contestant will have three minutes to make their case, convince the judges and win over the audience. Echoing its Hyde Park London origins, the soapbox is the perfect way to showcase our proud tradition of public speaking and this annual competition is a very popular forum for the country's budding and practiced public speakers.
This year the topic is  "Everyone wants to go back to the pre-Covid way of life"
Speakers are allowed to argue for or against the topic.
It is only fair to say that the European Commission who sponsor this competition are hoping that we do not return to a pre-Covid way of life. The impact of the Climate Crisis is such that we are all aware that we need to change the way we live. The EU target to make Europe the first climate neutral continent by 2050 is one that will force us to change how we work, live, build and eat to reduce our carbon footprint. It will also force us to re-value the natural environment; our biosphere which centuries of destruction have resulted in a new age of extinction similar to the one that ended the dinosaurs. It is only by changing that we can continue to survive and thrive.
For those of you arguing that post-Covid, you cannot wait to enjoy all the familiar human things of open contact, family gatherings, meeting friends, sport, going out in groups you will no doubt have all our agreement that it cannot come soon enough as we battle through this epidemic.