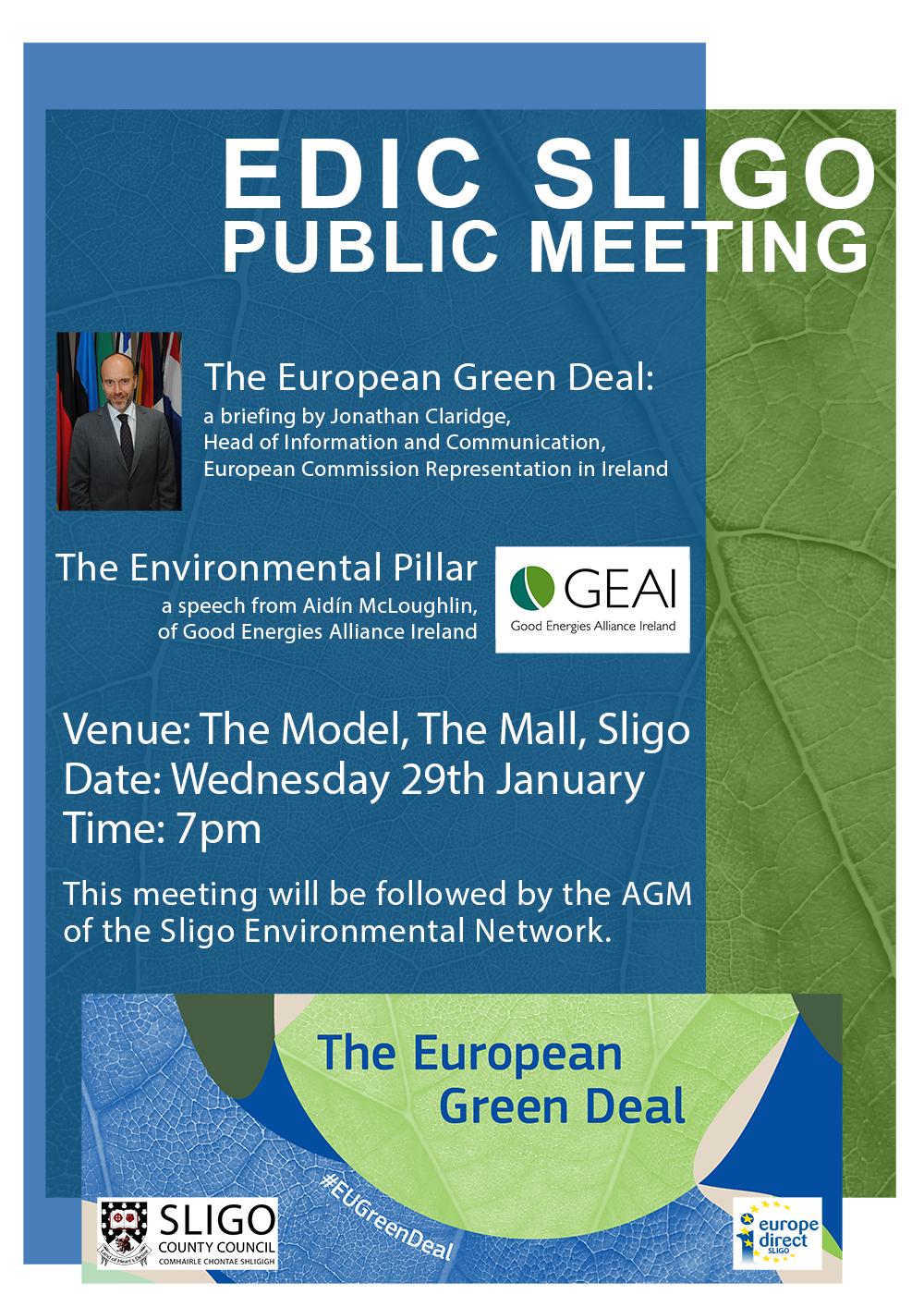 EDIC Sligo: A Briefing on the European Green Deal
      The EDIC Sligo* will be holding a public meeting on 29th January at 7 PM in The Model, Sligo, to be addressed by Jonathan Claridge, Head of Information and Communication of the European Commission and Representation in Ireland on the European Green Deal and Aedín McLoughlin, of Good Energies Alliance Ireland based in Leitrim, will speak on the role of the Environmental Pillar.
This event with a substantial Question and Answer element will form a Citizens Dialogue on the European Green Deal and what the audience see as the main priorities for it.
      Jonathan Claridge has been Head of Communication at the European Commission Representation in Ireland since September 2017. This is his second posting at the Representation, having previously worked there as Head of the Political Section. His other postings with the European Commission include being Deputy Head of the EU Delegation in Tel Aviv and an EU negotiator at the World Trade Organisation. Mr Claridge has also worked as an economist in the British civil service and an English teacher in Spain.
Aedín McLoughlin from Good Energies Alliance Ireland (https://www.goodenergiesalliance.ie/), has kindly agreed to come along and speak to attendees about the Environmental Pillar and also share her experiences of how organisations and communities campaigned against fracked gas with the support of the Environmental Pillar and our members. The Environmental Pillar is made up of national environmental non-governmental organisations (NGOs) who work together to represent the views of the Irish environmental sector. The Environmental Pillar creates and promotes policies that advance sustainable development. We act as an advocacy coalition promoting sustainable solutions in areas such as climate change, biodiversity, tree-cover, rescource efficiency, transport, planning and water.
You can register to attend on eventbrite:  https://bit.ly/2RclOdD
The EDIC meeting will be followed by the AGM of Sligo Environmental Network.